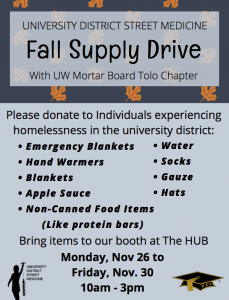 UW Mortar Board Tolo Chapter is proud to partner with University District Street Medicine to gather much needed and necessary items for individuals experiencing homelessness in the U-District.
Members will be stationed at the UW HUB all week from November 26 through November 30 taking donations. Among our list of requested items, we are asking for emergency blankets, socks, and hand-warmers. When in doubt, think of things people need to stay warm in the Seattle chill.
With temperatures falling more and more each day, the need for these items becomes significantly greater for these individuals. And as you visit your families for the long Thanksgiving weekend, or host friendsgiving feasts with your pals in the area, it's important to take time to think of those who may be spending the holiday much differently, and to act on it.
We would love for students to take advantage of the long weekend to purchase a few of these items, making it convenient to drop it off at the HUB the following week. Thank you all in advance for helping individuals in our community during the holiday season!